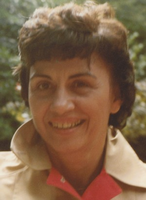 Mary Burns Kosinski
MARY KOSINSKI
Latham- Mary Burns Kosinski of Latham devoted wife of the late Dr. T.S. Kosinski, passed away peacefully on Monday November 20, 2017 at the Teresian House in Albany.
Born July 29, 1926 in Schenectady, Mary was the daughter of the late Carl B. and Mary M. (Burns) Hauser. Mary was a graduate of Mont Pleasant High School and a 1947 graduate of NYU Bellevue School of Nursing, and after graduation she went into the US Cadet Nurse Corps, stationed at Kingsbridge Veteran's Hospital in NYC. When WWII ended she went back to Bellevue Hospital and became head nurse of the prenatal unit.
She returned to Schenectady and met her future husband Ted, and they got married on May 20, 1950. She then worked in her husband's dental office, retiring in 1996. She later raised, trained and showed champion Weimaraner dogs in the US and England. Mary and Ted traveled extensively throughout Europe with their two children and their dog during his tour of duty in the United States Air Force. Mary went on to become a student of the Polish and Irish languages, and she was a member of the Albany Hibernian Auxiliary where she enjoyed competitive Irish Dancing. She volunteered at Proctors Theatre for 33 years and was a member of the Blue Creek Garden Club for 50 plus years. Mary was also a life member of the Albany Historical Society where she studied genealogy. And at the age of 54, she became a licensed glider pilot and flew for 25 plus years with the support of her husband, making new friends.
Mary is survived by her beloved daughters: Joan Kosinski (F. Jean Allen) of Postenkill and Susan Kosinski (Kathy Krauss) of Knox as well as 1 nephew, 2 nieces and several cousins.
The family would like to thank Dr. Nagaraja Patil and the nurses and staff of the Mt. Carmel wing at the Teresian House for their loving compassion and care.
Relatives and friends are invited and may call on Sunday November 26, 2017 from 6:30-8:00 pm at the Dufresne & Cavanaugh Funeral Home, 149 Old Loudon Rd., Latham
Mary's Mass of Christian Burial will be celebrated on Monday November 27 at 11:30 am at Our Lady of Assumption Church, 498 Watervliet-Shaker Road, Latham with Fr. Geoffrey Burke officiating.
In lieu of flowers memorial contributions can be made in Mary's name to the Pruyn House, 207 Old Niskayuna Rd, Latham, NY 12110 or visit www.pruynhouse.org
Interment will take place next to her husband in St. Patrick's Cemetery, Cambridge.
For directions, information, to light a memory candle for the family please visit www.dufresneandcavanaugh.com.