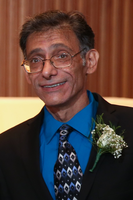 Frank Liburdi
FRANK LIBURDI
Watervliet- Frank Liburdi, 56 of Watervliet, passed away peacefully on Saturday, November 11, 2017.
Born in Troy on September 15, 1961, he was the son of the late Angelo and Antoinette (Medici) Liburdi.
He was employed at Shaker High School in Latham as a Custodian for 36 years. Frank was the most genuine, loving and caring person you could have met and was someone that would do anything for anyone without looking for anything in return.
Frank is survived by his loving siblings Mary (Jeff) LaHait of Latham, Angelo Liburdi of Watervliet and Robert (Irma) Liburdi of Texas as well as his cherished nieces and nephews. Frank is predeceased by his brothers David, Richard and Donald Liburdi.
Relatives and friends are invited and may call on Wednesday November 15, 2017 from 4:00 - 7:00 pm at the Dufresne & Cavanaugh Funeral Home, 149 Old Loudon Road, Latham.
Frank's services will begin at 9:00 am Thursday at the funeral home and at 10:00 am at St. Ambrose Church, 347 Old Loudon Road, Latham where his Mass of Christian Burial will be celebrated by Fr. John Cairns.
Interment will take place in Memory Garden's, Colonie.
For directions, information, to light a memory candle or order flowers for the family please visit www.dufresneandcavanaugh.com.