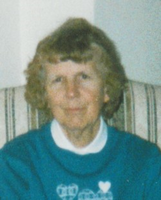 Patricia J. Smith
PATRICIA J. SMITH
Latham- Patricia J. Smith, 87 of Latham passed away peacefully on Tuesday, October 10, 2017 at Community Hospice at Samaritan Hospital in Troy.
Born in Rye, New York on June 11, 1930, she was the daughter of the late Otto and Ruth (Hoyt) Hagendorf. She was a graduate of Cobleskill High School. Pat was married to David L. Smith on October 11, 1953 and the two shared a blessed union of 50 years prior to his passing on June 23, 2004.
She woked for the Eddy Home Aide Service for many years and was previously employed as a cafeteria worker at Shaker High School. She enjoyed gardening, painting and reading and was a longtime member of Calvary United Methodist Church in Latham. She was also a member of the cooperative extension for many years. She volunteered at the Ciccotti Center for many years.
She is survived by her loving sons Kevin O. Smith of Lansingburgh, Roger I. Smith of Latham and Robin C. Smith of Troy as well as her cherished grandsons Dylan Smith and Bryan Smith.
Relatives and friends are invited and may call on Monday October 16, 2017 from 9:30-10:30 am at Calvary United Methodist Church, 15 Ridge Place, Latham. Funeral services for Pat will be celebrated at the church at Monday at 11:00 am.
In lieu of flowers memorial contributions can be made in Pat's memory to Calvary United Methodist Church, 15 Ridge Place, Latham, NY 12110
Interment will take place next to her beloved husband in Memory Garden's, Colonie.
For information or to light a memory candle for the family please visit www.dufresneandcavanaugh.com.