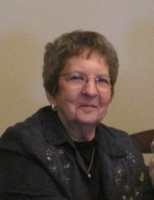 Jean Ann Hillje
JEAN ANN HILLJE
Latham- Jean Ann Hillje, 80, of Latham, beloved wife of George R. Hillje Sr. passed away peacefully on Saturday October 7, 2017 at Samaritan Hospital with her loving family by her side.
Born in Troy on July 7, 1937, she was the daughter of the late Joseph T. and Malvina Elizabeth (LaPlante) Dolan Sr. Jean was married to George R. Hillje Sr. on February 27, 1955 and the two have shared a blessed union of 62 years together prior to her passing. Jean was employed by the NYS Department of Transportation for many years. She enjoyed cooking, baking, camping in the Adirondacks and Rhode Island as well as ceramics, shopping, all types of flowers and the Saratoga Racino.
In addition to her husband George, she is survived by her loving children Linda J. (Curt Hayner) Hillje, G. Robert Hillje Jr. and Scott J. (William Collura) Hillje, her sister Deloris Dolan Hurd, sister-in-law Margaret Dolan, brother-in-law Henry Hillje, and sister-in-law Carol Hillje Grovenger. She is also survived by several nieces and nephews. Jean was predeceased by her sisters Lois Dolan Guild, Shirley Dolan LeCuyer and brother Joseph T. Dolan Jr.,
Relatives and friends are invited and may call on Tuesday October 10, 2017 from 3:00 p.m. to 7:00 p.m. at the Dufresne & Cavanaugh Funeral Home, 149 Old Loudon Rd., Latham.
Jean's Mass of Christian Burial will be celebrated on Wednesday October 11, 2017 at 10:00 a.m. in St. Ambrose Church, 347 Old Loudon Road, Latham with Fr. Brian Slezak officiating.
The family would like to thank the Samaritan Hospital 5th floor nursing and hospice staff, along with the the chaplains at Samaritan for the love and care given to Jean in her time with them.
In lieu of flowers memorial contributions can be made in Jean's memory to The Association for Frontotemporal Degeneration at www.theaftd.org.
Interment will be in St. Mary's Cemetery, Troy.
For directions, information, or to light a memory candle for the family please visit www.dufresneandcavanaugh.com.