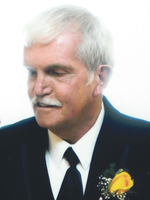 Robert W. Kirkendall
ROBERT W. KIRKENDALL
Latham- Robert W. Kirkendall, 74 of Latham passed away peacefully on September 13, 2017 at his residence with his loving family at his side after a long battle with stage 4 colon cancer.
Born in Albany on October 24, 1942, he was the son of the late Robert W. and Anna W. (Grogan) Kirkendall. He was a graduate of Shaker High School Class of 1961. Bob was married to the former Cheryl Colpoys on August 31, 1980 and the two have shared a blessed and devoted union for 37 years prior to his passing.
Bob worked for 21 years at Delaware & Hudson Railroad in Albany as the Manager of Special Accounting Projects. He then worked for 10 years with the Internal Revenue Service leaving as personnel officer following that he was the Fiscal Management Officer for 5 years at the Albany County Department of Health. For 3 ½ years he was the Administrative Officer for United States Department of Agriculture in Albany, retiring in 2008.
Bob had a love for animals and during his retirement he truly enjoyed his 4 legged family. He was a communicant of St. Ambrose Church in Latham for many years.
In addition to his beloved wife Cheryl, he is survived by his children: Tracy (Michael) Terry of Queensbury and Jeffrey Kirkendall of Latham. His cherished grandchildren, Keanan Robert Terry and Owen Michael Terry as well as his brother Douglas Kirkendall of Schenectady and several nieces and nephews.
Relatives and friends are invited and may call on Friday September 15 from 4:00-7:00 pm at the Dufresne & Cavanaugh Funeral Home, 149 Old Loudon Rd., Latham.
Bob's Mass of Christian Burial will be celebrated on Saturday September 16 at 10:00 am at St. Ambrose Church, 347 Old Loudon Road, Latham, with Fr. Brian Kelly officiating.
In lieu of flowers memorial contributions can be made in Bob's memory to the Community Hospice Foundation, 310 S. Manning Blvd. Albany NY 12208 or the Mohawk Hudson Humane Society, 3 Oakland Ave., Menands NY 12204.
Inurnment will take place in Memory Gardens, Colonie.
For directions, information, to light a memory candle or order flowers for the family please visit www.dufresneandcavanaugh.com.